Bayou Classic 3025 30-Quart Aluminum Turkey Fryer Pot with Accessories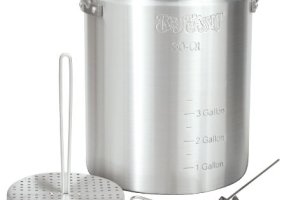 Product Highlights:
– 30-quart stockpot for frying whole turkeys in as little as 45 minutes
– Circulates oil for even cooking temperatures and tender, juicy meats
– Commercial-grade aluminum construction; lightweight for portability
– Includes 12-inch stainless-steel thermometer and perforated poultry rack with grab hook
– Measures approximately 14 by 14 by 17 inches

Product Description:
The Bayou Classic Turkey Fryer is the perfect choice for frying whole turkeys in as little as 45 minutes! Made of commercial strength aluminum, this pot is specifically designed for frying whole turkeys. The tall, narrow patented design requires less cooking oil than a standard stockpot. The perforated raised poultry rack allows the cooking oil to circulate evenly when frying, preventing the bottom from scorching. The grab hook provides a way to safely insert and remove poultry from hot cooking oil. The 12″ stainless steel thermometer is perfect for maintaining a constant temperature of cooking oil when frying.